VOLUME 5 ISSUE 10 October 2014
3gCustomz Newsletter
Home of the Sickest Customz in the Dirty South!
3gCustomz October Special
"Additional Savings On All 3G Bundled Kits, Another Facebook Giveaway And Half Cover Bling"
This is a first at 3g. We have never offered a discount on our 3g Engine Dress-up Bundled Kits. They are already discounted to save you money but we have decided to go ahead and put another 10% savings on some already great prices. We have many kits that already have discounted prices that range from 10-20% so add another 10% and you've got some great value.

So here's the deal purchase any of our engine dress up "Kits" and get an additional 10% off your order. When checking out use coupon code "3G-OCTOBERKITS-2014".
Click HERE To begin shopping for your Engine Dress-up Kit.
Click on the picture to zoom in click again to zoom out
All metal products shipped in raw steel or aluminum. Click HERE for product description information. Shown with optional cut-outs and customer paint. Sales coupons are non-transferable, have no cash value and cannot be combined with any other promotions. Any custom orders are not included in this sale.
Ready for another Facebook giveaway. Go to our Facebook page at 3G Facebook and "Like" both the "OCTOBER CAMARO GIVEAWAY" post and our "Facebook" page and at the end of the month we will have a drawing and one lucky Camaro owner will net a complete set of *3g Car Show Props. This includes a Hood Prop, Door Props and Trunk Prop with your choice of any standard 3g cutout. The total number of "Likes" will be put into a random number generator at random.org and it will select the winner. So Like this post and our Facebook page and the winner will be announced November 1st. Don't forget to share this with your friends. Good Luck To Everyone!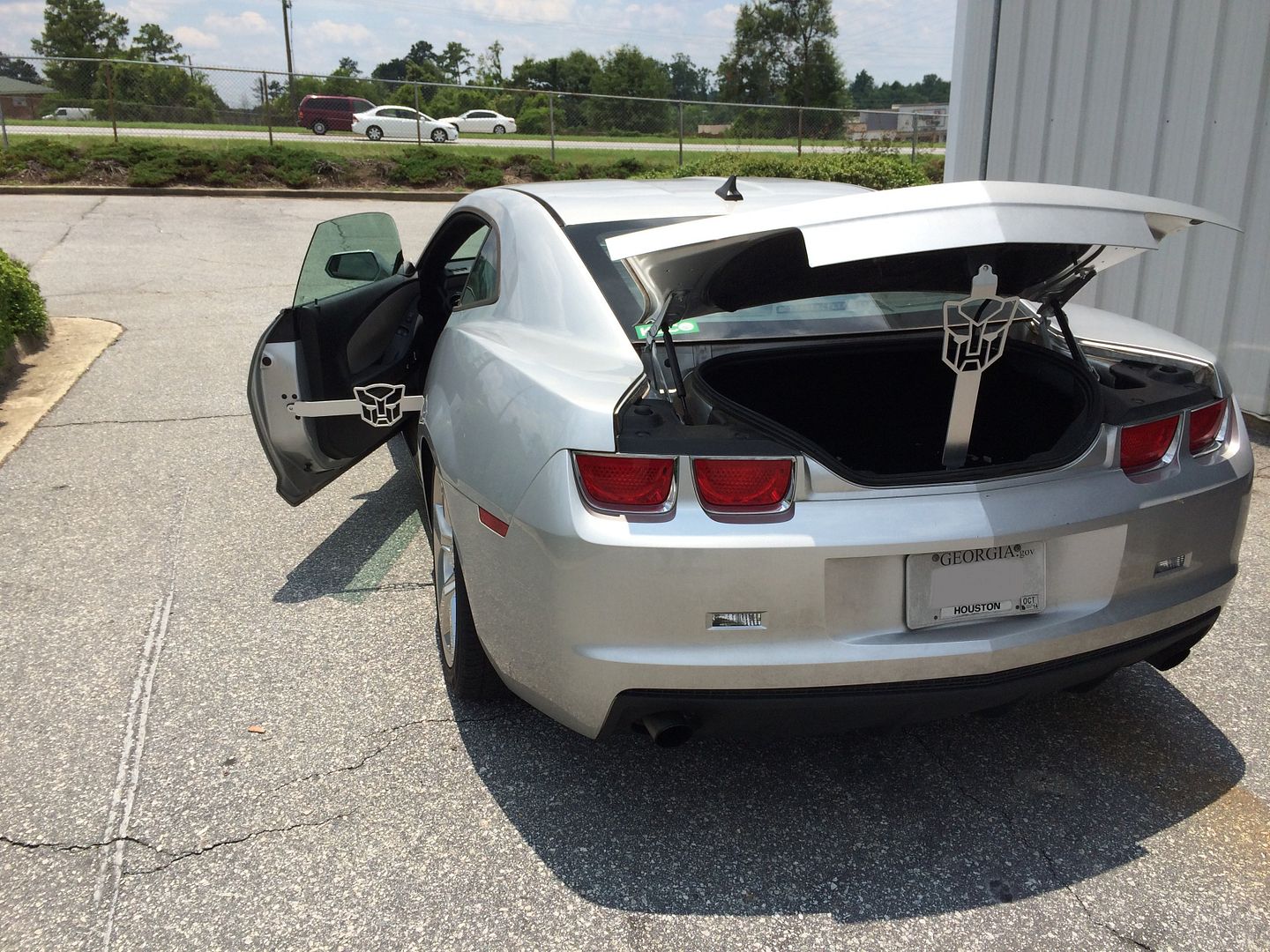 * Offer for Camaro owners only which includes (1) Hood Prop, (1) set of Door Props and (1) Trunk Prop with your choice of any standard 3g cutout that are currently available on our website.
For you guys and gals who already have our Engine Half Covers and for all new customers 3gCustomz is please to introduce our Engine Half Cover Dress-up Bolt Kit for 5.7 and 6.1 Engines. They are designed to replace the (4) factory ball studs and give a cleaner and more stylish look.
Click HERE To begin shopping for your Engine Half Cover Dress-up Bolt Kit.
To always be up to date on what's new or upcoming products be sure to register by clicking the "Sign Up Today" tab below.
Got questions call us at 855-342-7278
If you use PayPal when checking out you can now choose Bill Me Later®.
Bill Me Later gives you quick access to financing that's built right into your PayPal account. With Bill Me Later you'll get 6 months financing on qualifying purchases.
3gCustomz shopping cart is now available on your mobile smart phone by typing in your phones browser "shop.3gcustomz.com". All the things that you can do online with the shopping cart you can now do with 3gCustomz Mobile.
If you haven't registered with 3g please do so here
so you will be assured to be on our list and receive info, specials and updates.
Be sure to check out the Website 3gCustomz.com We offer many different product lines and should be able to help you complete your project from start to finish and with in budget. Just remember if you don't see something you need just ask because I'm sure we can get it for you.
Click HERE to begin shopping for your custom mod parts.
Contact Us HERE
copyright 2009-2014 3gCustomz.com Home of the Sickest Customz in the Dirty South!